TAX STRATEGIES FOR REAL ESTATE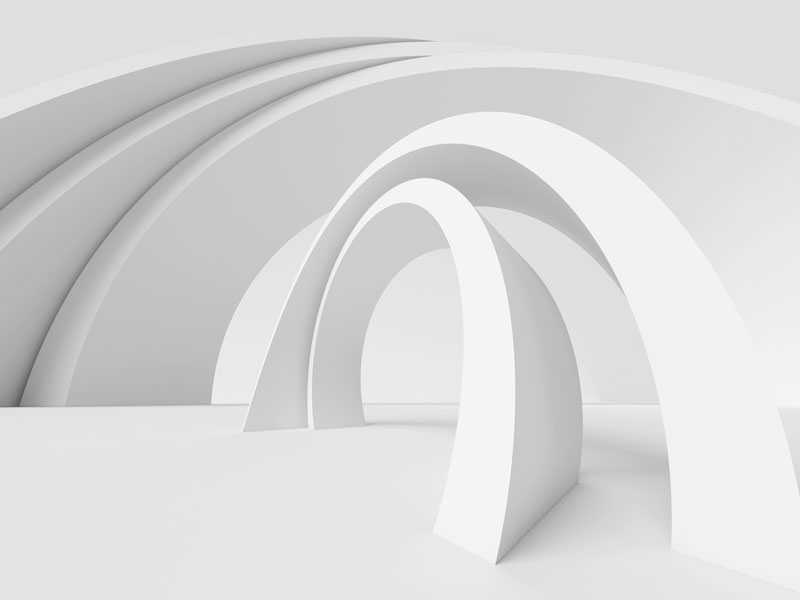 What is a Deferred Tax Exchange?
Section 1031 of the Internal Revenue Code generally allows taxpayers to exchange qualifying property for other "like-kind" property of equal or greater value without recognizing taxable gain. [Note: in exchange jargon, the property given up is often referred to as the "relinquished" property while the property being acquired is the "replacement" property.]
For example, assume a taxpayer owns unimproved investment land with a value of $1,000,000 and an adjusted tax basis of $400,000. If the taxpayer simply sells the land for its value, the taxpayer would have to recognize a $600,000 taxable gain. Assuming the effective federal and state tax rate is 20%, the taxpayer will only have $880,000 to reinvest because of the $120,000 in taxes paid (i.e., $600,000 gain x 20% tax rate = $120,000 in taxes).
If instead of selling the investment land the taxpayer exchanges it for like-kind land with a value of $1,000,000, Section 1031 allows the taxpayer to defer the recognition of the $600,000 taxable gain. This treatment is permitted because the taxpayer hasn't really changed their taxable position with respect to their investment. That is, they still have a land investment with a value of $1,000,000, it just happens to be different land. It is important to note that the gain has been postponed or deferred, NOT eliminated; accordingly, if the taxpayer subsequently sells the replacement land for $1,000,000 or more, the $600,000 deferred gain will be recognized at that time.
Although the above is an example of a very straight-forward, simple exchange, most exchanges are more complex. Factors such as debt, multiple properties, the inclusion of non-like-kind property, depreciation, related parties, and cross-state exchanges can significantly complicate matters. In addition, a number of tax-related requirements must be satisfied to qualify for Section 1031 Tax Deferred Exchange treatment.
Deferred Tax Exchange Structures
The most simplistic type of deferred tax exchange is the direct exchange of one property for another property. However, in practice, this type of exchange rarely occurs.
A more common type of exchange is a nonsimultaneous or delayed exchange. A delayed exchange comes in two basic flavors: (i) a Forward Exchange and (ii) a Reverse Exchange. In a Delayed Forward Exchange, a taxpayer sells the relinquished property first and then acquires like-kind replacement property to complete the exchange. In a Reverse Exchange, which as you might expect is the opposite of a Forward Exchange, the taxpayer acquires the like-kind replacement property first and then subsequently disposes of the relinquished property to copmplete the exchange. While this may sound straight forward, it is important to keep in mind that the taxpayer doesn't actually sell or buy anything. Instead, all aspects of the exchange must be handled through a third party, referred to as a Qualified Intermediary.
For example, in a Delayed Forward Exchange, the taxpayer will negotiate with a buyer for the sale of its relinquished property and then assign its rights in the sale contract to the Qualified Intermediary. After the sale of the relinquished property, the Qualified Intermediary will hold the taxpayer's cash in an exchange escrow. The taxpayer will then negotiate with a seller to acquire the replacement property. Before closing on the replacement property, the taxpayer will assign its rights to the Qualified Intermediary who will then buy the replacement property using the exchange funds (plus any other consideration necessary) and then transfer the property to the taxpayer top complete the exchange. Graphically, it looks something like this: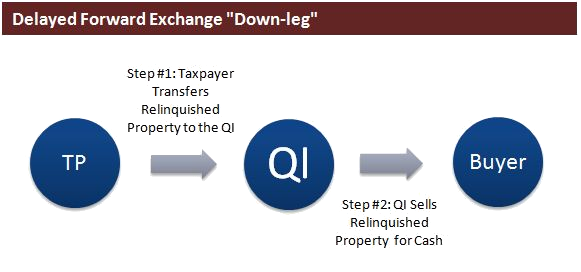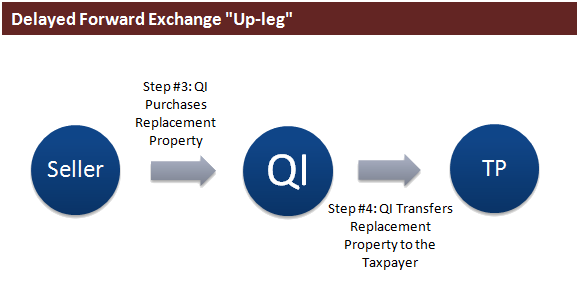 Regardless of whether a delayed exchage is structured as a Forward Exchange or as a Reverse Exchange, the sale and the purchase transactions must be structured properly in order to qualify as a Deferred Tax Exchange. The Qualified Intermediary, often referred to as the Exchange Accommodator or the Exchange Facilitator, will complete the necessary legal documents to ensure that you are in compliance will all laws, regulations and rulings.
It is critical that the Qualified Intermediary be be assigned into the Purchase and Sale Agreement or Contract and the Escrow Instructions, if any, prior to the close of your sale and purchase transactions. Your transaction will not qualify as a valid Deferred Tax Exchange if either transaction closes without your Qualified Intermediary being formally assigned into both transactions.
Exchange Rules
Deferred Tax Exchange Requirements
Reinvestment Requirement
For a Deferred Tax Exchange to achieve a complete deferral of tax, the rule of thumb is that the value and equity of the property received in an exchange must be greater than or equal to the value and equity of the property given up. In other words, the value of the replacement property and the taxpayer's equity in such property must be greater than or equal to the value of and equity in the relinquished property.
Qualified Use Requirement
Both the relinquished and replacement properties must have been held as investment properties or used in a trade or business. Personal-use property (e.g., primary residence) or property that is held primarily for sale (e.g., inventory) does not qualify for Deferred Tax Exchange treatment. [Note: this doesn't mean that such property cannot be exchanged, it just means that any gain realized on the exchange cannot be deferred.]
Like Kind Requirement
In this context, the term "like kind" refers to the nature or character of the property and not its grade or quality. For example, real property is generally like kind to other real property regardless of its condition, its location or whether it is improved or unimproved. However, real property located in the United States and real property located outside of the United States are not considered like-kind property regardless of nature or character.
The following real property asset types are valid exchange properties provided they satisfy the Qualified-Use Requirement discussed above: single-family residential, multi-family residential, commercial office, retail shopping, industrial, vacant land, oil and gas interests, mineral rights, riparian water rights, and tenant-in-common investments.
Multiple Assets and Fractional Interests
Using a Deferred Tax Exchange, a taxpayer can reposition, diversify or consolidate its real estate holdings while eliminating or minimizing current taxes. A taxpayer can sell one relinquished property and diversify its portfolio by acquiring multiple like-kind replacement properties, or it can sell multiple relinquished properties and consolidate its portfolio by acquiring fewer but larger like-kind replacement properties. A taxpayer can also sell or purchase fractional (partial) interests in property.
Exchange Deadlines
For a non-simultaneous exchange, there are two deadlines of concern: (1) a 45-day identification period and (2) a 180-day exchange period. A taxpayer has 45 calendar days from the close of the relinquished property transaction to identify potential like-kind replacement properties being considered for purchase and an additional 135 calendar days — for a total of 180 calendar days — to complete the exchange by acquiring some or all of the identified like-kind replacement properties.
Exchange Identification Requirements
You must identify your potential like-kind replacement properties to your Qualified Intermediary within the 1031 Exchange time limits discussed above. The identification must comply with one (1) of the like-kind replacement property identification rules outlined below:
Three Property Identification Rule

Under this rule, the taxpayer may identify up to but not more than three potential like-kind replacement properties without any limitation. In general, it is advisable to identify more than one potential replacement property even if the intent is to only acquire one.

200% of Fair Market Value Identification Rule

The 200% of fair market value rule allows you to identify more than three potential like-kind replacement properties as long as the total fair market value of all the potential like-kind replacement properties identified does not exceed 200% of the sales price of the relinquished property(ies).

95% Exception to Identification Rules

The 95% exception to the identification rules allows you to identify as many like-kind replacement properties as you wish provided you actually acquire and close on 95% of the fair market value actually identified.
Benefits + Detriments
Benefits
The obvious benefit is that a Tax Deferred Exchange allows you to reinvest 100% of the value of your real estate investments into like-kind real estate investments instead of paying roughly one-third of it to the government in the form of taxes. Moreover, this tax deferral can be made permanent if you hold your real estate investments until you die. Upon your death, your heirs will receive a "stepped-up" tax basis equal to the value of the property as of the date of death. This effectively resets the income tax meter so that any deferred gain in your exchange property is wiped out. In other words, your heirs would pay no income tax if they sold the property immediately after they inherited it [note: of course the estate tax implications of retaining the property until death would need to be assessed to minimize the overall estate/income tax impact to the family, but this can nonetheless be a powerful tax savings tool.]
Detriments
There really aren't many detriments to a Tax Deferred Exchange. One thing to keep in mind is that the exchange provisions are mandatory and apply to any exchange that meets the parameters (e.g., like-kind property, investment use, etc.). Thus, a Tax Deferred Exchange in a depressed market could unintentionally defer a tax loss. In such cases, you would likely be better off selling the loss property to generate the tax loss and then reinvesting the net sale proceeds in replacement property.